The American Sighthound Field Association (ASFA) Hall of Fame honors hounds that have achieved outstanding performances or records in the sport of lure coursing, as well as those individuals who have donated a great part of their life to improve and promote the sport of lure coursing for sighthounds. During the 2020 ASFA Annual Convention of Delegates, Jill Bryson and Irish Wolfhound Stoneybrook Brynmair Kinealy - Lucy - were among those inducted into the ASFA Hall of Fame.
Jill Bryson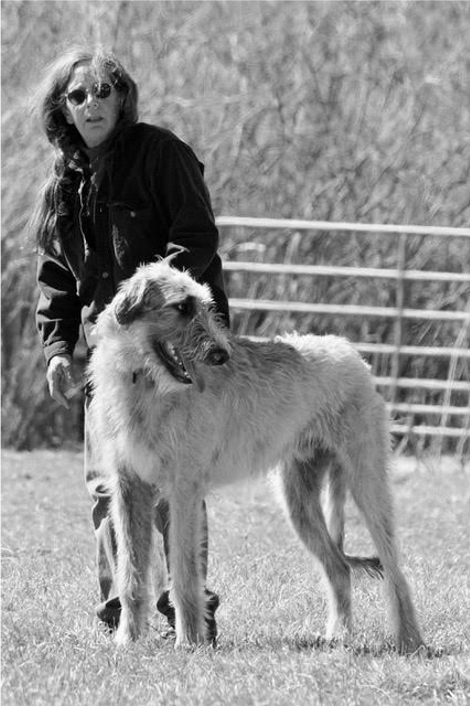 Jill Byson moved to Hailey Idaho with her husband, Kevin Bryson, and first Irish wolfhound puppy in 1972. With time, more and more Irish Wolfhounds joined the family and as Jill often said, "Although we didn't plan it, we went to the dogs!"
Jill and Kevin had a well-respected action photography business spending long weekends capturing dog events on camera. Jill Bryson dedicated her life to dogs as she soon completed a degree to become a licensed canine rehabilitation technician while she was a veterinary technician. She always said she had the best job in the world as a veterinary technician for over forty years. Jill shared this knowledge with the lure coursing community.
Jill was involved in the American Sighthound Field Association lure coursing since the late 1970s. She and Kevin were lost in California and saw a sign that said "coursing" and decided to check it out. Years later, Jill and Kevin were two of six individuals who were the driving force behind the establishment of the Southern Idaho Sighthound Field Association (SISFA). They bought property for the club to hold trials in Emmett, Idaho. She was a tireless promoter of lure coursing in the West and was also one of the founding members of the Utah Sighthounds Racing and Coursing Club (USRCC) north of Salt Lake.
Jill regularly drove 14 hours to Colorado to help out the Colorado Lure Coursing Association's Grand Nationals. She made as many ASFA International Invitationals and Irish Wolfhound specialties as she could work into her schedule. Driving to the west coast, Midwest, and wherever she had friends Jill entered dogs. In seeking input for this nomination, we have heard many memorable, funny stories from the greater ASFA community. Jill brought the fun. Jill was the ultimate volunteer and went to work from the moment she arrived at these events until the field was cleaned up. She sewed everything from racing blankets to rehabilitation aids and shared her insights with the community. Jill would do anything needed but most of all she put the hounds first. Every single race, she wished for safety for the hounds.
The Grand National was of particular importance to Jill mostly because of the emphasis on fun. She believed that this community of dog enthusiasts would be best served with some good laughter and camaraderie. She helped introduce lure coursing to at least two generations of new coursers and was always ready to share her experience and knowledge and to mentor huntmasters and other field committee positions. There have been few that brought as much tolerance and acceptance to all who participated in Lure events as Jill.
Jill was the huntmaster of choice and mentored many of the best around today. She also did the work to become an ASFA judge mostly so she could relieve judges who needed a break and so she could make sure her home club always had a 2nd judge when needed.
Jill was given the Gary Forrester Award by the American Sighthound Field Association in 2014. The purpose of the Gary Forrester Achievement Award is to recognize individuals who emulate Gary's commitment to lure coursing. Jill Bryson's contributions made her eminently worthy of this recognition.
Jill was actively involved with her breed, Irish Wolfhounds. She was a member of the Irish Wolfhound Club of America (IWCA), the Rocky Mountain Irish Wolfhound Association (RMIWA), the Irish Wolfhound Association West Coast (IWAWC), and the Northern California Irish Wolfhound Association (NCIWA). Her passion was to see the hounds run. After years of helping others to run their dogs and attempting to finish a FCh on her wolfhounds, Jill's dreams were realized with her wonderful last wolfhound, Woopie, who was not only a champion and group placing wolfhound, but a phenomenal runner, even obtaining an LCM and many important wins all over the country - just dues for someone who spent their whole life with wolfhounds that ran for a while but never finished field titles.
Jill's outgoing personality, infectious good nature, and willingness to help out in any situation made her a welcome addition to a trial and an outstanding ambassador for the sport of lure coursing. We lost Jill this past December. She was truly a unique individual and will be missed.
Stoneybrook Brynmair Kinealy LCM2 SGRC JOR SOR - Lucy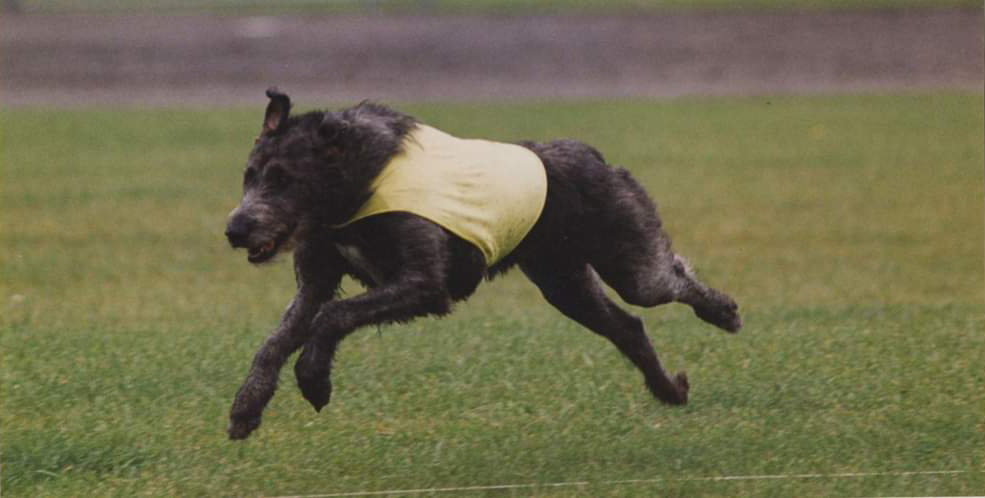 During the 2020 ASFA Annual Convention of Delegates (held virtually), Stoneybrook Brynmair Kinealy - Lucy, 2000-2004 - owned by Karen Frederick, was inducted into the ASFA Hall of Fame. Here was her submission to the convention.
Lucy was a young Irish Wolfhound who had thought she was going to be sent to a relatively famous Italian breeder of Irish Wolfhounds. A problem arose, something about a bite, and Lucy's Italian adventure was cancelled. Instead, a late night phone call from Minnesota was received asking whether we were interested in her. She was a pretty Wolfhound with a minor underbite and she did well under breeder judges at Specialties.
What she excelled at though was lure coursing. She was a year old when she was picked up at a fun match in Maple Plain. Lucy was in the ring and she spotted a napkin blowing across the grass. There was hope! Soon this young hound would be one of those barking fools at trials and always trouble to get to the line.
She was entered in her first trial on 7 October 2001 and within two months, she had earned her ASFA Field Championship. She had taken Best of Breed over 25 IWs (yes, 25!) at the October 2001 Locust Grove Irish Wolfhound event in Edwardsville, IL. She also won Best of Breed at the Great Lakes Irish Wolfhound event in 2002 over 21 IWs. She managed her first LCM in November 2002 and her LCM2 in October 2003. Her last trial was on 21 March 2004 at her home field of SLASH.
Sadly, Lucy was put to sleep five days after her fourth birthday due to painful chondrosarcoma in her right hip on 25 May 2004.