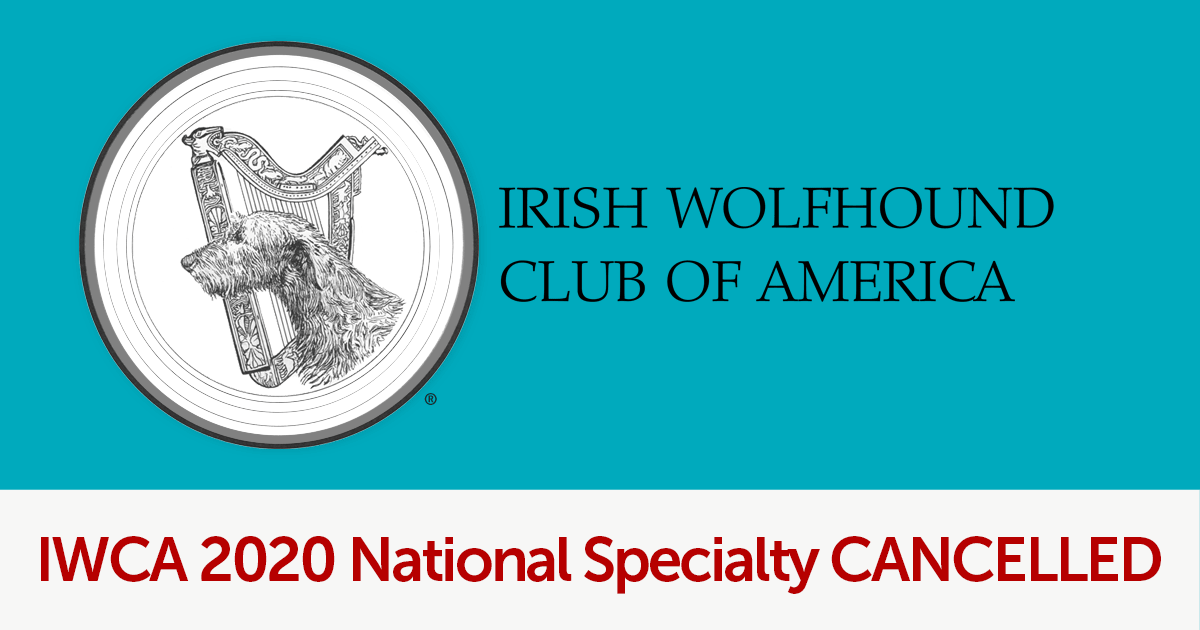 It is with deep regret that we are announcing the cancellation of the 2020 Irish Wolfhound Club of America's National Specialty.
When the governor of Nebraska announced on March 16 that event organizers must "limit the size of events and public gatherings (e.g. parades, theaters, sporting events, etc.) to 20-50 people" for the next two months, the fate of the specialty was sealed.
As stated in previous announcements, this decision was not made in haste nor without gravity.
Please thank the 2020 Specialty chairmen for all the hard work they have done so far. They are not yet done since they have much still to communicate to their vendors, suppliers and officials.
The 2020 IWCA Board of Directors nominations and elections will proceed as planned and be handled by the balloting vendor. Remember, your membership renewals must be received by March 31 to be eligible to vote.
The IWCA board will meet as soon as possible to determine how we handle the annual general meeting, educational offerings, and fund raisers typically held with the specialty.
Please watch for future announcements from the board and thank you for your patience and understanding.
Tracey Luty - IWCA President
Nina Gottsch – Specialty Chairman
Kim Staman – Assistant Specialty Chairman
David Berzins – Obedience and Rally Chairman
Mary Ellen Shriver – Performance Chairman
Doug Marx – Show Oversight committee
and the IWCA Board of Directors.