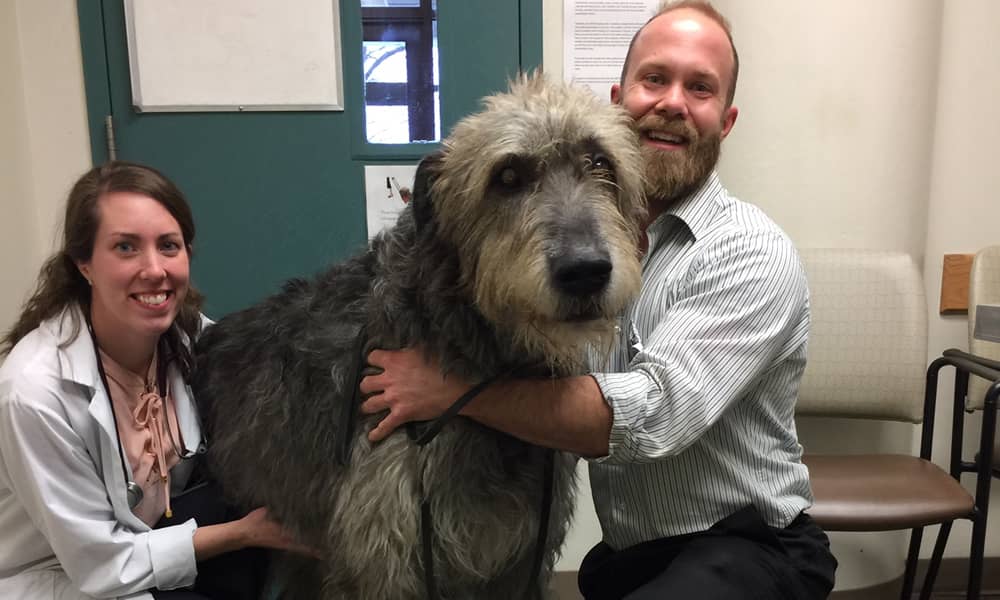 Osteosarcoma remains the number one killer of Irish Wolfhounds and afflicts many of our young hounds. The IWCA is supporting a research project "Genetic Contribution to Early Onset Osteosarcoma". The lead investigator is Dr. Susannah Sample at the University of Wisconsin. There have been advances in technology and there is real hope to identity a genetic contribution to OSA.
Help with Pedigrees
Osteosarcoma is inherited in an autosomal dominant fashion in the Scottish Deerhound and probably also in the Irish Wolfhound. They are asking for detailed pedigrees of IWs BOTH with and without osteosarcoma to identify this in the IW. If you have such records please consider helping. Everything will be kept confidential.
Help With Blood Samples
If you have a young hound (5 or younger) with osteosarcoma please consider entering this study. They need blood from the sire and dam if at all possible but a sample from just the affected hound will help greatly.
They also need blood from IWs 10 and older who do not have osteosarcoma. This is a rare group to find so please reach out if you have a senior dog. The blood can be drawn locally and information will be provided to your vet for handling of the sample.
Contact Information
Genetics@vetmed.wisc.edu
608-265-5828
https://www.facebook.com/SVMgenetics
Dr. Susannah Sample is a veterinary clinical scientist in the Comparative Genetics Research Laboratory at the University of Wisconsin School of Veterinary Medicine. Also in the laboratory are veterinary geneticists Drs. Lauren Baker, Emily Binversie, and Peter Muir.