The IWCA honored several club members' Irish Wolfhounds at the Annual General Membership Meeting in Santa Fe, NM on Tuesday, May 14.
Earning Versatility Certificates and Medallions were CH Quest Carmilla CD BN RM BCAT CGCA TKN ("Carmilla") and Quest Full Tilt Boogie CD BN RE SC BCAT CGCA TKN ("Janis"), both owned by Cathy Lursen & Ed Powers. Carmilla is also the first Irish Wolfhound to earn the AKC Rally Master title. Congratulations to the dedicated owners of these IWs titling in multiple sports.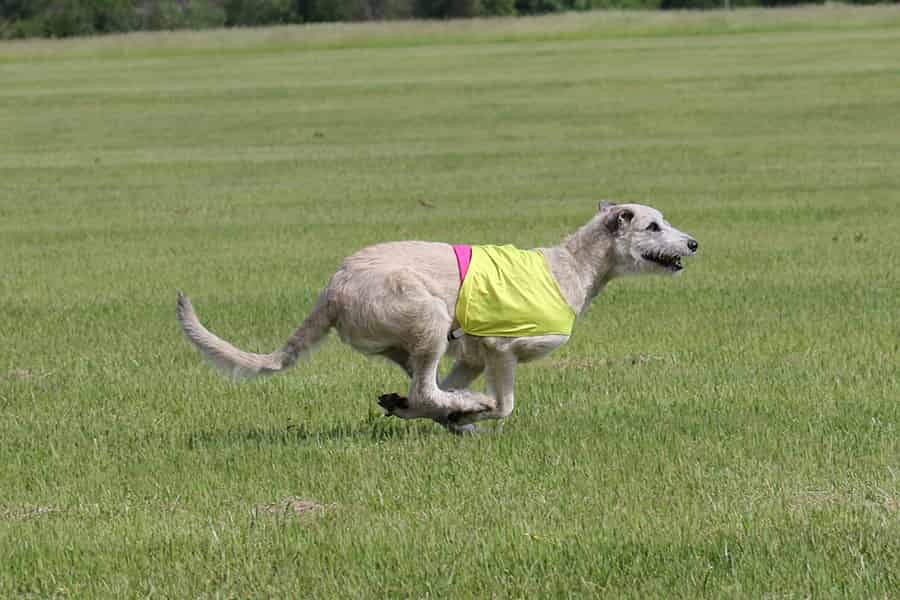 "Aine" (CH Culcara's Aine The Alluring FCh CD BN CGC, pictured above), owned by Donna Cassini, Dale Knowlton, and the late Donna Drake, was given a plaque honoring her as the 2018 #1 IW in ASFA owned by an IWCA member. Aine was also the #1 IW overall in ASFA in 2018. Congratulations on Aine's success!
Earlier in the year, ASFA inducted "Bayreen" (CH Kellcastle's Sumpin' Sweet LCM II, CGC, pictured below) into the American Sighthound Field Association's Hall of Fame. Bayreen was owned by Terry & Robin Burchett and bred by Crystal Schriendofer & Anne Spalding-Prill. Bayreen is the #6 IW lifetime in ASFA, earning 43 Best of Breeds (two at IW specialties) and Best in Field three times. The IWCA commends Bayreen on her Hall of Fame induction.

At the May 13 IWCA Board Meeting, revised Versatility Guidelines were approved. Among the additions were adding in AKC CAT and FastCAT titles as well as a provision to allow an IW on an AKC limited registration to participate. The current Guidelines for the IWCA Versatility Program may be found in the Members section of the IWCA website.