"Ch. The McGillacudy, Irish wolfhound owned by Clyde B. Smith, Cooper Rd., Middletown, is mascot of the 69th regiment in New York city. McGillacudy heads this unit, known as the "Fighting Irish," in today's St. Patrick's day parade in New York. Clyde is the son of Albert H. Smith, huntsman of Monmouth County Hunt club, and trainer of hounds at Haskell's Woodland farm."
(Red Bank Register (NJ), March 17, 1955, page 8, transcribed verbatim).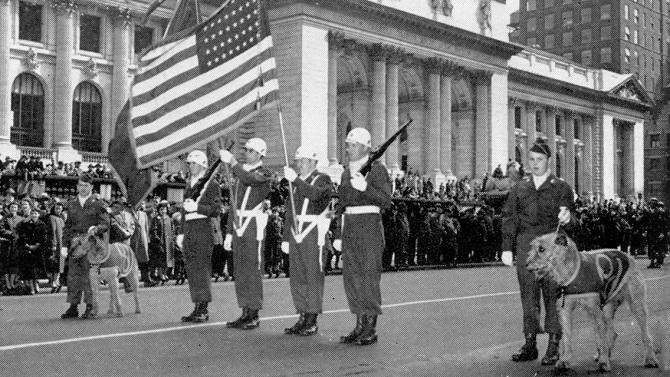 Photo used with permission of the American Kennel Club
McGillicuddy (Ch Patrick of Ballytobin x Develin Corina of Enfelcarne) and his sire, pictured above, accompanied the Fighting 69th in the New York City parade since 1952.