Showing Your Irish Wolfhound
by Donna Smith
You are running full tilt, just along for the ride at the end of the lead as this magnificent creature next to you strides out effortlessly eating up ground. He is powerful and graceful at the same time. He has proud look in his eye because he IS the ONE and he is sure of it because Mom said so and today this judge agrees. He is all muscle and gleaming hard coat and could easily do the job of his ancestors if asked to do so. That is what it is like to show an Irish Wolfhound when things click.
The next one you show, she is feeling silly and just wants to play. "Hey can you hold me up if I lean my entire body like this?" She cannot for the life of her understand why I am taking all of this so seriously. When it is our turn to gait around the ring she says with a smile on her face, "let's race!" You barely keep yourself upright while trying to convince her to turn before you end up careening into the tent rope. It is not pretty (sigh).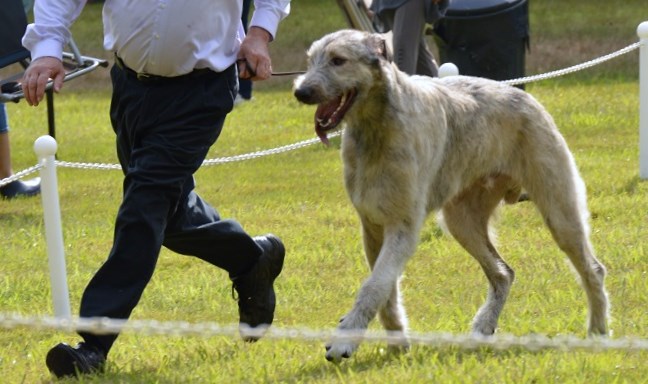 That is what it is like to show Irish Wolfhounds. It is rarely dull, and you need a sense of humor to survive, particularly when they outweigh you and have 4-wheel drive.
So you are new to the breed or you have had IWs as companions for years and you think that going to shows sounds like fun. It is great fun and as in anything else in life, it takes work to do well. At "specialty" shows (shows where there are only IWs entered) you have a great opportunity to learn a lot about our breed. As a bonus you can meet and talk to the crazy people who have invested time, money, blood, sweat and tears into making sure this wonderful breed is around for future generations. If you wish to do your part as a guardian of the breed, then you need to be involved with your local regional wolfhound club. The only skill you need to join is a love of Irish Wolfhounds and a willing heart. These are the people that are dedicated to insuring the breed's future.
Showing your hound is a brilliant way to develop your relationship with your hound beyond the big hairy companion that looks to you for food and shelter and reciprocates love. These dogs were intended to be athletes: Hounds that could be both impressive to look at just standing in the doorway and amazingly beautiful in full chase. Warriors if need be, hunters if they wanted to eat and companions of the highest caliber. They bond closely to their humans and are happy to work at what we ask of them, if we ask nicely.
At the local "all breed" shows (all AKC breeds are offered conformation classes) you can learn a lot about how to present your hound to its best advantage, how the show game is played, how important it is to know your breed standard. There you can find out what is going on with the kennel club in your area, where you can go to take handling lessons, and where the better groomers are located. Many kennel clubs have Match Shows. These are basically training or practice shows for all, the kennel club and many of its participants and judges. Match shows are usually more relaxed, usually smaller in numbers of attendees and cost less to enter. They can also be more disorganized and more time consuming.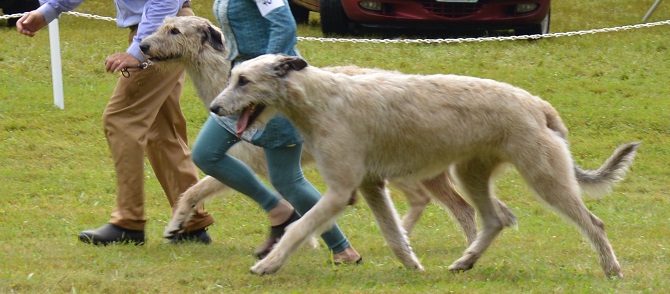 So where to start? You start with the best advantage by being honest with your breeder. Simply tell them you are interested in learning to show. Hopefully that way you end up with a puppy that has the aptitude both physically and mentally to be a show dog. It is not for every hound. There are a few extraordinary hounds that simply don't want to participate in all of the fuss. There are many more hounds that receive that extra bit of personality to make up for the fact that they are not really candidates for Mr. Universe or Miss America. There is nothing wrong with showing that hound. You will learn a lot and will probably even come home with a few ribbons. As long as you are realistic enough to know that you are learning the ropes of showing with your buddy and not a serious contender for Best of Breed. You will have spent some alone time with your hound and hopefully learned a few things.
Then you need to learn the breed standard. What does that elusive perfect hound look like? What does it move like? What does it act like? You can go and talk to long-time successful breeders and ask them what is extremely important? What is not so important? They will tell you they want it all, of course. Bring your hound to different breeders you respect, ask for an honest evaluation and be prepared to gracefully accept and consider what is said. All hounds have faults, even specialty winners.
OK, so now you have some idea of what your hound's strengths and weaknesses are. How do you go about presenting them? If your breeder is close, they will be happy to help you with getting started on both handling and grooming (both yours and the hounds). Always remember it is a dog "Show." You start by practicing in short sessions at home where both you and your hound are comfortable. Remember this is fun! You are teaching your hound to show off how gorgeous they are. Once you two are on the same page, take your show on the road to a local park and practice there. If your breeder is not close enough to get you started, you need to find a local handling class. Many local kennel clubs have them in the evenings at different types of facilities around, some indoors and some outdoors. Some clubs offer different levels. Be very careful with your hound to not overdo the training in your enthusiasm to learn. Always insure your methods are positive and never harsh or overly repetitive. Most handling classes are an hour long; I personally think that is way too long for both of you. IT GETS BORING! So either take half the class or take a break in the middle to play or just chill.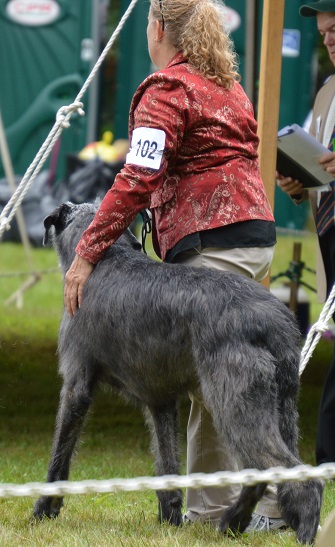 Showing your hound well takes team work. It takes patience, mutual admiration and respect. Really good Handlers make it look easy. It is not. It takes time, practice and the ability to really know your hound and what motivates him/her. Standing still and jogging patterns smoothly in a designated square is not an extraordinarily hard skill to master. Doing those silly mundane things, in a space that is surrounded by other people and dogs, where it is sometimes noisy and hot, as a happy team, is. Doing those things to show your hound to his best advantage takes thought and preparation.
Next step is an actual show. A lot of AKC shows have someone on hand to mentor newcomers. If you do not have a relationship with the IW people in your region then you should avail yourself of one these sessions. If you are part of a local club then go to a couple of shows with club members and ask questions. Maybe offer to hold dogs for them. You want to have some idea of what you are doing before you and your teammate have to perform. Ask questions.
The whole point of all this show work is to provide some form of subjective evaluation of our breeding stock. Everyone's hound is a winner in a class of one. We love them all regardless of how many ribbons they have won or how close they may or may not be to our standard. However, at the end of the day we strive to make better hounds, not just more hounds. Does not the use of term "better" imply that there was some form of comparison? It may be fun to win that blue ribbon in a class of one, but how much more meaningful is it to win that ribbon in a large class of your peers with their gorgeous hounds?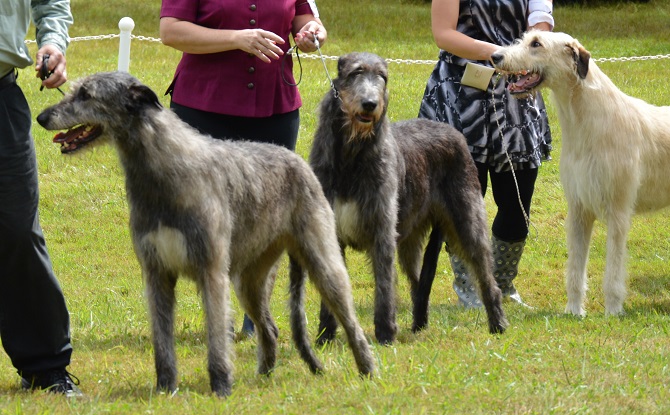 The other invaluable piece dog shows provide, particularly specialties, is a gathering point for those who have a vested interest in the prosperity of the breed: not just its survival but for it to continue in good health and in the same form Captain Graham envisioned. Even if you do not show your hound, it is a great opportunity to ask questions of those who have had many more hounds than yourself and are happy to share with those who are just learning.
This page was last updated 03/30/2018.