2021 IWCA Specialty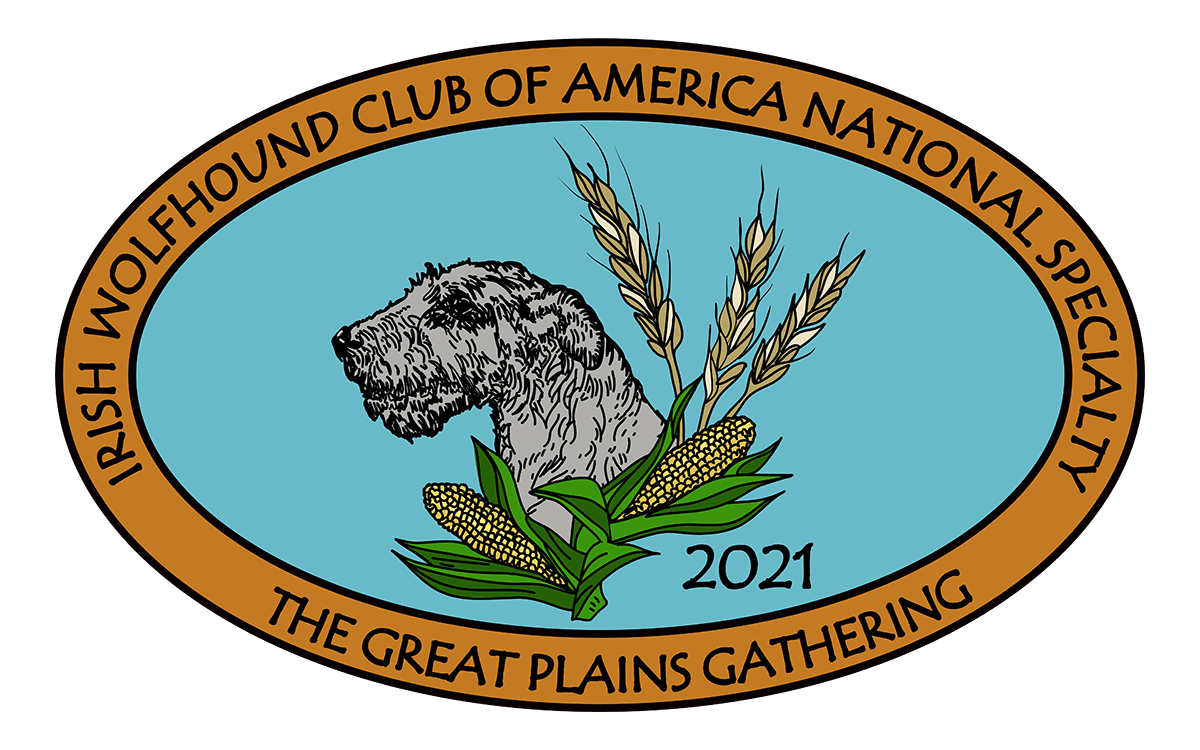 Irish Wolfhound Club of America
91st National Specialty
May 25 - 27, 2021
NEW SHOW SITE!
Bellevue Berry & Pumpkin Ranch
11001 South 48th Street
Papillion, NE 68133
Conformation Judge: Dr. Lynn Simon (Rockhart - USA)
Sweepstakes Judge: Melanie Mercer, DVM (Wyvern - USA)
Show Chair: A. I. (Nina) Gottsch, 402-715-5254 (voice only, no text)
---
The 2021 IWCA National Specialty will be held at the Bellevue Berry & Pumpkin Ranch (BBPR), 11001 South 48th Street, Papillion, NE 68133 (Omaha suburb). This theme farm and event center hosts a Renaissance Festival, numerous weddings and receptions, and many other large and small group events each year. It is approximately 25 miles northeast of Eugene T. Mahoney State Park.
All the competitions: conformation, obedience/rally, and performance, as well as the AGM, heart testing and health education will be on-site at the BBPR.
RV parking: Self-contained (no hook ups) RV parking space rental will be available at the BBPR at a rate of $35 per night. Showers and restrooms are on site. Reservations to camp/park at the BBPR will be handled through the IWCA. Please do not contact the BBPR directly for RV parking reservations. RV reservation information will be included in the show premium.
Meals: Lunches will be catered by the BBPR.
Hotels and full-service RV parks: Within a 10-mile radius, there are multiple dog-friendly hotels and RV parks. More information will follow about hotel rates and pet fees.
Cancellations at Eugene T. Mahoney park: Individuals with lodging or RV site reservations may cancel at least 30 days in advance of their arrival date and should receive a full refund. If you are charged a cancellation processing fee please contact Nina Gottsch.
There are no changes to the previously announced tentative specialty schedule. As more information becomes available, it will be posted on the IWCA website and the IWCA National Specialty Show Facebook group.
The IWCA Board and Show Committee appreciate everyone's patience with these unforeseen changes.
For further information, please contact Nina Gottsch at ianinas@tds.net or 402-715-5254 (voice only, no text).
---
Tentative Schedule
This is a very tentative schedule. Further details will be added as they become available. Activity days subject to change.
Time
Event
Location
Saturday, May 22
NKC All-Breed Show
Lancaster Center, Lincoln, NE
Sunday, May 23
NKC All-Breed Show
Lancaster Center, Lincoln, NE
Monday, May 24
IWCA Board Meeting
ASFA Trial & AKC JC/QC Tests
Tuesday, May 25
Obedience Trial
Rally Trial
Sweepstakes
Junior Showmanship
Health Education Presentation
AGM
Wednesday, May 26
Regular Class judging
Health Testing
LGRA
Thursday, May 27

Regular & Non-Regular Class judging continued

Health Testing
This page was last updated 02/27/2021.